Created: 02 April 2017
Updated: 19 April 2017
Published: 02 April 2017
Written by Native
Hits: 9
Saturday April 22, 8:30am – 11:00am (Come and go as needed)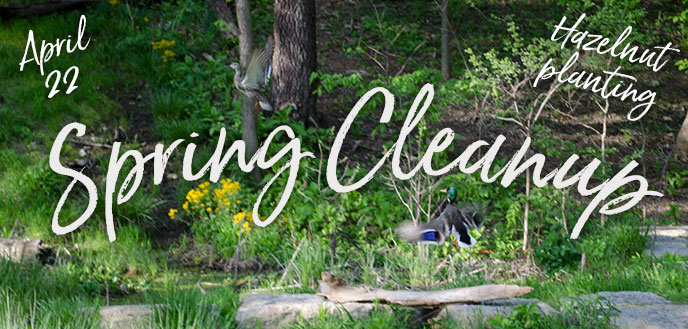 Come help spruce up Roanoke Park. Meet at the community center for some coffee, then head into the park. Help pick up litter along the trails or playgrounds, weed around the parks planted areas, etc etc. Your choice!
Snag some coffee at the Westport Roanoke Community Center and check in before choosing a work destination:
Go on litter patrol throughout the park. You might find a new favorite spot.
Help weed at the Coleman Highlands Spring or Schoolhouse Point plantings. Something for everyone! (Bring loppers or a rake. We'll have gloves and trash bags.)
The first of 33 hazelnut shrubs will be planted near the Coleman Highlands Spring area, if conditions allow.
Please RSVP by clicking "Going" on the Event Facebook Page. Invite your friends so we can generate interest on the interwebs: https://www.facebook.com/events/1319449604797523

If you aren't on facebook, RSVP to us at

This email address is being protected from spambots. You need JavaScript enabled to view it.



Hope to see you there!
Hazel-whats?
Charlie DeLong, son of volunteer park naturalist Chris DeLong, is undertaking the planting of hazelnut shrubs and pollinator friendly plants along the "old roadbed" between Karnes and the Coleman Highland Spring as his Eagle Scout project. His main work day for the planting of these shrubs will be the afternoon of April 30 but we're getting started with a few of them on the 22nd. The wildflowers are slated to go in Saturday morning May 20. Neighbors and park fans are welcome to join in on either of those plantings.
A Missouri native plant, American Hazelnut, Corylus americana, was chosen for its suitablity to the site, wildlife value and beauty. Yes, the nuts are edible, although they are smaller than commercial hazelnuts and likely to be fewer in number. The plants for the sunnier east portion of the old roadbed slope include little bluestem, columbine, purple milkweed and sky blue aster. These were chosen to supply both larval food to early monarch butterflies heading north, and nectar to later monarch butterflies heading south.