Created: 16 August 2012
Updated: 23 November 2016
Published: 16 August 2012
Written by Native
Hits: 9978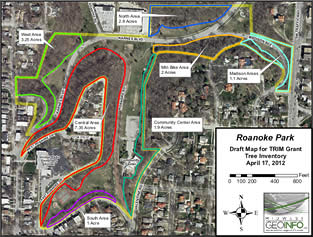 Initial map showing inventory areas prepared by Midwest GeoInfo.A major grant from the Missouri Department of Conservation has been WON by the Roanoke Park Conservancy! We applied for the T.R.I.M. (Tree Resource Improvement and Maintenance) grant this past June. T.R.I.M. program grants are awarded to municipalities and organizations working on public land to help them with projects benefiting the street trees and urban forests in their jurisdictions. Click this link for more information about the MDC T.R.I.M. grant program.
The Conservancy's grant application was for a Tree Inventory. This will pay for a GIS mapmaker and certified arborist, working as a team, to go through the park and identify and assess every tree over 3" trunk diameter. The GIS map maker is Midwest GeoInfo. Click the link to see some of their work. The arborist is Ivan Katzer.
Now we need YOUR HELP to complete this matching grant, so please visit our Donate to the Park page to help us come up with the funds we need for our portion.
$ 8,932 – Cost Share Reimbursal from MDC
+ $ 1,300 – Value of Donated Labor
+ $ 1,678 – Total of Your Generous Contributions (tax deductible for you)
= $11,910 – Total Project Cost
The Tree Inventory's Goals:
"The Roanoke Park Conservancy would like to document the current condition and composition of the trees in the park's wooded areas, boulevards and open areas by commissioning a tree inventory within the park utilizing the TRIM Cost Share Program. The inventory will use a sub-meter GPS unit to collect tree size and condition, genus and species, locations and concentrations of native to non-native trees, and locations of uniquely large or uncommon trees. The data will be converted to ESRI's GIS format and an i-Tree database. All data will be presented on several maps including online maps viewable on desktop browsers and smart devices. Long-term management of the park's wooded areas will be guided by the data and maps, which will be maintained over time, assisting in future seedling and sapling planting with the goal of maximizing species diversity and contributions to native food webs. Locally native species will be favored in the park's more heavily wooded areas." Quoting from our grant application. Click this link to download the full Roanoke Park T.R.I.M Grant Application.
The grant is a matching grant. In our case the match will come partially from our volunteer labor and partially from donated funds. It is also a reimbursal grant, meaning the Conservancy has to spend considerable dollars up front and get reimbursed after turning in the receipts and showing that the work was completed properly. Given this, we will need your help with fundraising! Please visit our Donate Now page for details. Any contribution you can make will benefit not only this grant, but our ability to secure other future grants. All with the goal of a better Roanoke Park.
​