Created: 28 July 2010
Updated: 30 August 2012
Published: 28 July 2010
Written by Native
Hits: 4857
Miles Krivena, John Frick, Pete Browne, Kite Singleton, Randy Moore, Curt Watkins, Dave, Andrew Park, Scott Burnett, Steve Sitton, Manuel Lopez, Pam Gillford, Peter Meier, Frankie Messer, and a generous donation of a 5-man landscaping crew made great progress along the bluff at the end of the brick road on Saturday. We don't have good "before" pictures unfortunately, but here's a link to a Google Street View where you can pan around the intersection:
Roanoke Rd & Karnes Blvd., Before...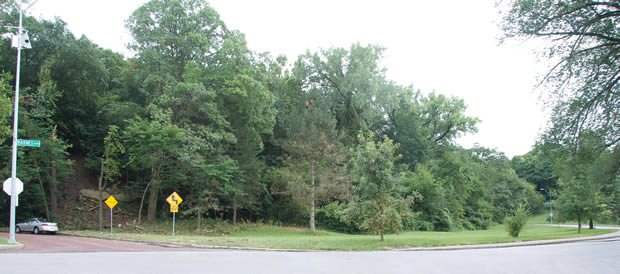 The day's battleground in the fifth honeysuckle campaign of the season.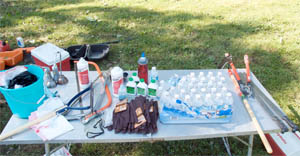 The Command Post: Tools, gloves and water for those who come equipped only with the spirit to help enhance the midtown life.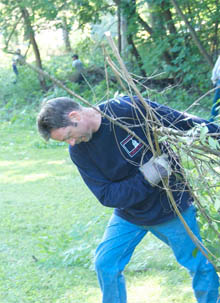 Pete Browne dragging some honeysuckle canes to the curb.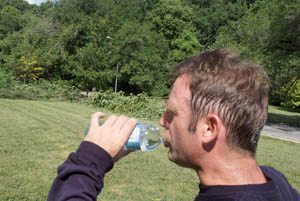 Pete staying hydrated with his third favorite beverage.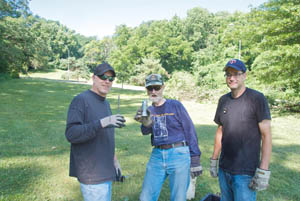 Miles Krivena presents ceremonial applicators for the Tordon. Miles traveled to Minnesota to find just the type he had in mind. Miles was gone for a week on this quest. To the apparenet disappointment of Pete Meier only project protagonist Kite Singleton gets a squirt can.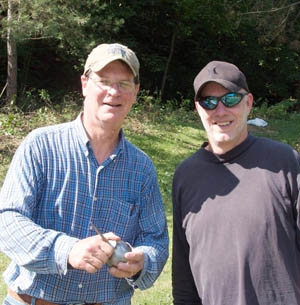 County Legislator Scott Burnett (First Chair – Chain Saw) was also recognized by Miles with a special herbicide applicator—not as nice as Kite's but at least he made the "cut".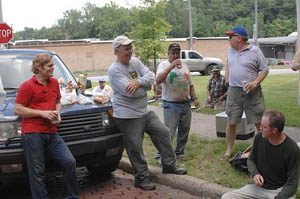 L to R are Dr. Andrew Park,, Curt Watkins, Miguel Sanchez, John Frick and Randy Moore critiquing the brats John Frick grilled to fortify all for the afternoon. Final Judgment: A brat never tasted better!
The sponsored landscape crew set the pace for all of us with their speed and thoroughness and especially stamina as the hot afternoon wore on.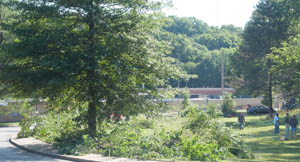 The debris field of honeysuckle. It's everywhere! The parks department has been a great ally in doing the heavy lifting. They remove the brush we get to curbside.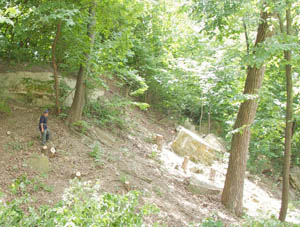 Here's what the honeysuckle had obscured. By day's end we began to see the exposed bluff at the north end of the brick road. We felt the revelation of the drama of the bluffs was a big payoff for the hard work.
A Cottonwood Tree Revealed...
June, 2010—Joan and John Riffel, Paul Kamps, Scott Burnett, and Curt Watkins "unwrapped" a grand old cottonwood on the north side of Karnes.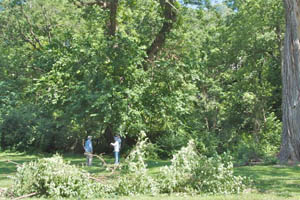 Cottonwood tree at 8:15 am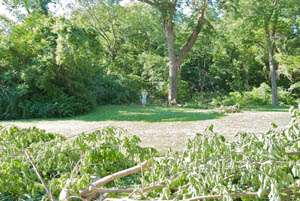 By noon the same day.