Created: 18 August 2010
Updated: 12 March 2020
Published: 18 August 2010
Written by Native
Hits: 5692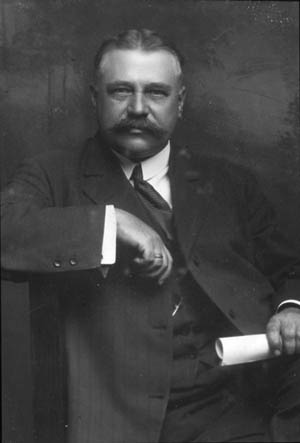 Landscape architect George E. Kessler was the creator of Kansas City's Parks and Boulevard System, of which Roanoke Park is one of the early parts. The field of landscape architecture was in many ways created by Frederick Law Olmsted, designer of New York's Central Park and many other parks and estates. After Olmsted's passing, George Kessler was considered one of landscape architecture's most masterful practicioners. The fame of Kansas City's Parks & Boulevards system was and is to the credit of the city, and led to Kessler being commissioned to design over two hundred works thoughout the country. Not only parks and boulevards, but private estates, universities, city planning and cemetaries.
Mr. Kessler came to Kansas City in 1882 to work for the Kansas City, Fort Scott, and Gulf Railway Company, overseeing the development of their "pleasure park," Merriam Park. He secured this employment after being recommended to the railroad's New York owners by Olmsted, with whom Kessler had been briefly corresponding about how to apply his education in botany, garden design and civil engineering to the new field of landscape architecture. At that time the railroads were engaged in creating destinations just outside cities as an enticement for people to ride the railroad. Merriam Park was a successful venture in this regard, drawing over 20,000 visitors a day at its height two years after Kessler arrived.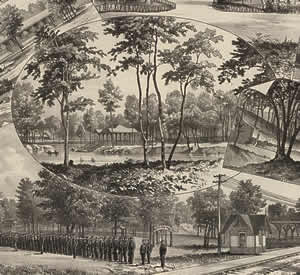 "Views of Merriam Park" Click for a blow up.Building on his work in Merriam Park, Kessler opened a design office in Kansas City and began to take on private commissions. One of these was for Hyde Park. He was hired by the developers, builders of adjacent houses, who thought the development of the ravine into a park would enhance the value of the surrounding properties. His work in Hyde Park was noted by early proponents of the City Beautiful movement in Kansas City: William Rockhill Nelson and August Meyer. After doing private work for these gentlemen and other Kansas City notables, Kessler was engaged by the newly formed Park Board and its president, August Meyer, to begin work on a Parks and Boulevards system. He and Meyer co-wrote the Park Board report of 1893 with Meyer writing the main body and Kessler writing the engineer's report. In their report Kessler laid out his vision of a park and boulevard system comprising 9.85 miles of boulevards and 323.45 acres of parks. To Kansas City's credit, the plan was adopted and by 1920 was not only completed but expanded ten-fold, comprising in that year of completed and planned parks and boulevards totalling 3,471 acres and 151 miles. Roanoke Park, developed around 1906-1909, is one part of the expansion of the Parks and Boulevard system taking place after 1893. Kessler moved to St. Louis in 1910 but maintained a relationship with the Kansas City Park Board and Kansas City until his death in 1923.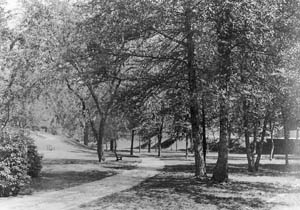 Hyde Park, Kansas CityThis summary was drawn from material on www.georgekessler.org, a website created and maintained by The Kessler Society of Kansas City. Please see that site for further reading.
Kessler Society
The Kessler Society is a Kansas City Missouri parks and boulevard citizen support organization named after the creator of Kansas City's Parks and Boulevard System, landscape architect George E. Kessler. The Society was formed in 1990 and is a 501-c3 organization.
Mission:
Educate the public on the historical significance and value of the parks and boulevard system.
Support the maintenance, improvement and expansion of the parks and boulevard system.
Serve as a citizen advisory group to the Board of Parks and Recreation Commissioners, and as a forum for public participation.
Sponsor parks and boulevard improvement programs.