Created: 19 January 2011
Updated: 05 March 2018
Published: 19 January 2011
Written by Native
Hits: 7740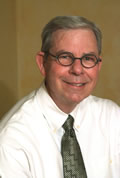 Cary Goodman lived in Roanoke for 37 years. He loved these neighborhoods and was excited about the prospect of Roanoke Park again becoming a key feature of his midtown community.
Cary challenged us to imagine. This designer of skylines gave much to this neighborhood project. He was at the very first meeting in February, 2010, to contemplate a vision of private citizens adopting the historic park. His vision was for a thoughtful reclamation that could inure to the benefit of its nearby neighbors, honor the park's history and enhance our midtown urban lifestyles with a green space in which to happily gather.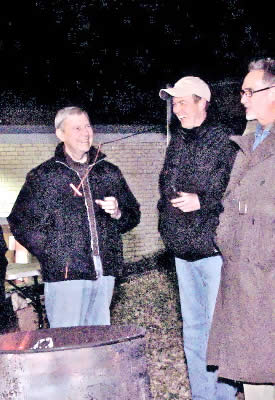 Cary with Randy Moore and Frank Messer warmed by the reception of the park plan and bonfire at the presentation of the Roanoke Park Plan.
-December 2, 2010. Westport Roanoke Community CenterIt was Cary who suggested the survey of residents to identify the most preferred park amenities. It was Cary who organized the subsequent charrette to engage all interested parties to come forth with best ideas for a park master plan. Cary authored the Guiding Principals that led the charrette exercise. It produced the early master plan shown at the December 2, 2010, open house at the Community Center...
Just as Cary's remarkable design talent marked soaring skylines in our larger community his imagination fueled ours in a grand public-private endeavor to add to the joie de vivre of our own immediate part of the greater Kansas City community. We are grateful to Cary for his leadership, his devotion to us and Roanoke Park.
We carry on in tribute to Cary's imagination, vision, contributions and belief that an even better community is within our collective initiative and grasp.
-Curt Watkins
To learn more about the life of Cary C. Goodman, read the longer tribute article from The Kansas City Star.