Created: 29 March 2012
Updated: 15 March 2016
Published: 29 March 2012
Written by Native
Hits: 11229
March 24th and 31st: 237 native trees and shrubs were planted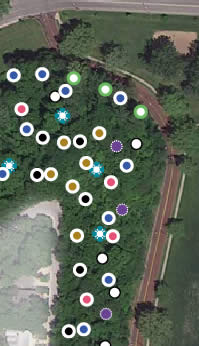 Click the image to download a pdf of the planting plan.Over two weekends a couple dozen volunteers planted the approximately 240 native trees and shrub seedlings donated to Roanoke Park from the Missouri Department of Conservation. The quick and dirty planting methods recommended by MDC were followed so we're accepting of the fact that some percentage of these may not survive. Each one that does however, will add to the rebirth of Roanoke Park.
These seeding and planting efforts are desperately needed to restore the damage done to the park's forests by invasive shrub honeysuckle and wintercreeper. Those invaders have been preventing the next generation of trees and shrubs from getting started. Our seeding and planting will bring back the beautifully diverse native forest that Roanoke Park deserves. In addition to the blank green flags marking patches of seeded River Oats and native wildflowers, look for green flags with writing noting the kind of tree or shrub planted at that location. Here's the list of trees and shrubs we received and links to more information on each one:
*The "Mixed Hickory" is dominated by shagbark, but also could include bitternut, pignut, black and shellbark hickories.
Additionally about 200 more seedlings were received from the Arbor Day Foundation and various park neighbors. Those are being banked into a central nursery for the summer to gain strength and size for a fall transplanting into the park.