Created: 14 November 2013
Updated: 15 March 2016
Published: 14 November 2013
Written by Native
Hits: 3988
Native plants seeded in Roanoke Park, fall/winter 2013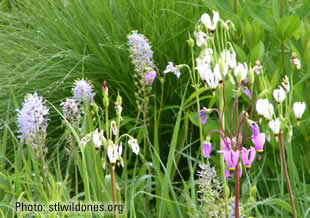 This photo shows Wild Hyacinth and Shooting Star, part of our seed mix. Click for a blowup.
Fewer foreign Invasive Species + More Natives = a Beautiful Nature Escape in Roanoke Park.
We have to Make It Happen.
The park has some areas left too bare after removal of shrub honeysuckle. So we're all about getting some good natives growing instead!
The Roanoke Park Conservancy and generous neighbors bought nearly $500 worth of Missouri Native Seeds for this effort. Additionally, several hundred dollars worth of other seeds have been collected locally.
Part-Shade Grasses
Canada Wildrye, Virginia Wildrye, Silky Wildrye, Broomsedge, River Oats, Purpletop, Poverty Oatgrass, Sideoats Grama.
Part-Shade Wildflowers
Dwarf Larkspur, Ohio Spiderwort, Wild Hyacinth, Thimbleweed, Starry Campion, Elephant's Foot, Elm-Leaf Goldenrod, Squaw Weed, Red Columbine, Jumpseed, Sky Blue Aster, White Beardtongue, Woodland Bergamot, Common Black-eyed Susan, Gray-headed Coneflower, Plains and Tickseed Coreopsis, Gray and Savanna Goldenrod, Leadplant, Slender Lespedeza, Partridge Pea, Purple Prairie Clover, Wild Quinine, Rattlesnake Master, Sampson's Snakeroot, Sensitive Brier, Shooting Star, Downy Skullcap, Slender Mtn. Mint, Ox-eye Sunflower, Rose Verbena, and Yellow Wingstem.
Full Sun Wildflowers
Wild Garlic, Aromatic Aster, Blue Wild Indigo, Purple Poppy Mallow, Indian Paintbrush, New Jersey Tea, Large-flowered Coreopisis, Lanceleaf Coreopsis, Plains Coreopsis, Prairie Clover Mix, Pale-purple Coneflower, Yellow Coneflower, Rattlesnake Master, Rose Verbena Gum Weed , Western Sunflower, Bottlebrush Blazing Star, Prairie Blazing Star, Agave, False Aloe, Barbara's Buttons, Missouri Primrose, Small palafox, Purple Beardtongue, Foxglove Beardtongue, Pale Beardtongue, Prairie Cinquefoil, Slender Mountain Mint, Gray-headed Coneflower, Black-eyed Susan, Missouri Coneflower, Blue Sage, Showy Goldenrod, Goats Rue.