Created: 27 May 2013
Updated: 30 September 2015
Published: 27 May 2013
Written by Native
Hits: 4274
National Trails Day: around 40 people enjoyed a Trail tour and $645 was raised for Earth Riders Trails Association.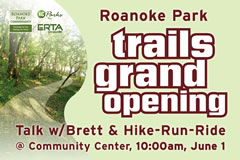 The official Roanoke Park Trails Grand Opening was a great success!
Of course many people have been enjoying the trails already as sections have been opened over the last year plus. But today was a special day to acknowledge National Trails Day and say Thank You to Brett Shoffner and Earth Riders Trails Association for building around Two Miles of Hiking / Biking / Nature Trails in Roanoke Park. Well Done! $645 was raised for ERTA as part of that Thank You, including $200 in matching funds from the Roanoke Park Conservancy.
"...Yesterday afternoon my family walked the trails for the better part of two hours. We had a blast. Here we sit minutes from downtown but also just a few hundred yards from an incredible nature escape. Thank you." - Brandon Boulware
Brett kicked off the morning with a live segment discussing Roanoke Park Trails on KCTV5 with Bonyen Lee.
The above interview was Brett taking a break from last minute trail polishing beginning at 5:00 am and continuing after the interview. True dedication!
After a brief discussion of the Trails' place in the overall park Master Plan efforts, Brett led a large group out for a personal tour at 10:00 am.
Parks and Recreation Director Mark McHenry and landscape architect Heather Runkel got a "mini tour" from Chris DeLong.
Over half of the folks stayed to enjoy the trailside grilled brats and a conversational lunch with fellow park fans and neighbors.
TRAIL MAPS were handed out for Trail users new and old. Download your own here: Roanoke_Park_Trails.pdf We'll update the map periodically but keep it at the same link location.
Before the Grand Opening, Midtown KC Post posted an excellent article and interview with Brett Shoffner about the Roanoke Park Trails and the Grand Opening:
http://midtownkcpost.com/2013/05/29/have-you-hiked-the-devils-dip-roanoke-park-trails-open-saturday-9485
And followed it up with an equally excellent report afterwards including some great photos by Mike Sinclair:
http://midtownkcpost.com/2013/06/03/trails-opened-as-part-of-restoration-of-roanoke-park-9624
See you on the TRAILS!