Created: 16 August 2010
Updated: 02 October 2015
Published: 16 August 2010
Written by Native
Hits: 4915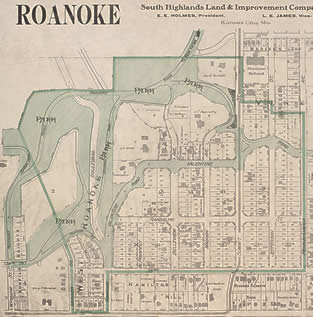 1907 Sanborn Map of Roanoke residential district of Kansas City. Click for a blowup.The area of Roanoke Park was originally a largely undeveloped section of woods between the frontier towns of Kansas City to the north and Westport to the south. As the population increased throughout the 19th century, homes and businesses began to be developed in the area. The South Highlands Land and Improvement Company and other developers saw the value that preserving the wooded ravines of the area could have to adjacent real estate values. In (year), George E. Kessler was engaged by Kansas City's newly formed Board of Park Commissioners to design a Park and Boulevard System, including Roanoke Park. His work in Kansas City stands out as one of the early touch stones in the field of landscape architecture. The rolling terrain and wooded bluffs of Roanoke Park were particularly suited to Kessler's naturalistic style.
According to the park board report of 1907, "This property should be held as a bit of wilderness, which is now its charm, and which would be entirely lost if attempts were made to finely finish any part of this valley...In the old quarry west of Roanoke Ave. and north of 38th St., the very fine spring there should be developed; a pool and a modest water garden."
It's value to adjacent residents is recognized no less today, as an asset for social interaction, recreation, exercise and enjoyment of natural beauty.
From the 1920 "Souvenir" guide:
"The Park and Boulevard System of Kansas City, Missouri,
Revision and reprint of 1914 edition,
Board of Park Commissioners, 1920,
compiled and written by Fred Gabelman."
Missouri Valley Special Collections, Kansas City, Missouri Public Library.
"PARK AND BOULEVARD SYSTEM HAS MADE KANSAS CITY FAMOUS. ... The principle, which was adopted by Mr. George E. Kessler, Landscape Architect for the Board of Park Commissioners ... was to follow nature as closely as possible, to adapt the planning to the natural conditions."
"KARNES BOULEVARD. This boulevard is a connecting link between Roanoke Park and Penn Valley Park and was named in honor of Mr. J. V. C. Karnes, a Park Commissioner."
"ROANOKE PARK. This park is a beautiful preservation of wooded ravines lines with rugged cliffs, in the western section of the City. It was entirely acquired by deeds of gift from the South Highlands Land and Improvement Comapny and others, who had caught the spirit of conserving nature's beauty before it became marred, and of the resulting enhancement in value of nearby property. "
Click here for a more detailed history of Roanoke Park.
The website for the Roanoke neighborhood has an excellent page telling about the cave that exists in Roanoke Park (now sealed off), and many other aspects of history relating to the park: http://www.roanokekc.org/RoanokeParkCaveMystery.html
See the historic photos gallery on this site for views of the park in its early days.