Created: 19 January 2011
Updated: 01 April 2014
Published: 19 January 2011
Written by Native
Hits: 4214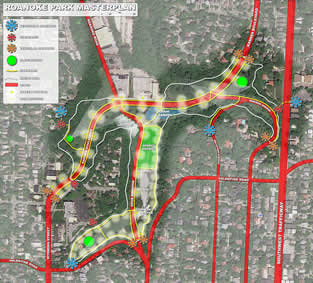 The Master Plan drawing has been updated as of April, 2011 with a few changes. Bluff lighting has been added and the Rain Garden is no longer shown atop the sand volleyball court. Strong community support has been expressed for keeping the sand volleyball court where it is.
ROANOKE PARK MASTER PLAN DESIGN PRINCIPLES
Connectivity
Connectivity to the park from the surrounding neighborhoods
Sidewalks – connecting to neighborhoods
Vehicular Gateways
Pedestrian Gateways
Staircases
Connectivity within the park
Sidewalks – closing the loops
Hiking Path – connecting with nature – educational opportunities
Crosswalks – safe and secure road crossings
Roads
Karnes Boulevard
Various Methods for traffic slowing
- Bike Paths
- Road Narrowing
- Road surface change at crosswalks (brick pavers)
Roanoke Boulevard
Could be closed for community events
Historic Street should be celebrated
Sports District
Consolidation of "active" amenities to a central location
Move tennis courts to allow for other uses (larger playground and rain garden)
Utilize existing parking
Develop organized activities with community center
Playgrounds
Locations good – updates needed
Water spray-mist/play area
Lighting
Illuminate Bluffs in SW corner of Karnes and Roanoke
Elegant street lighting along Karnes and Roanoke
Path lighting (low level lighting – 42" and below)
Rain Garden
Opportunity to showcase on-site water collection
Water run-off control
View Corridors
Quiet places to view the park from within the park
Signage
Location with view informative vista features (bluff age, natural springs, seepage areas, etc)
Educational
- Plants
- History