Created: 27 April 2011
Updated: 01 April 2014
Published: 27 April 2011
Written by Native
Hits: 6397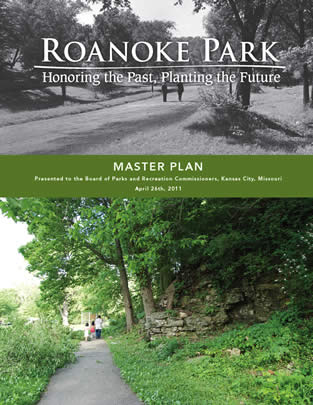 Congratulations to all for their hard work and involvement!
The Roanoke Master Plan was officially approved by the Board of Parks and Recreation Commissioners of Kansas City, Missouri on April 26, 2011.
Curt Watkins was invited to read the Parks Department's Mission Statement to open the session after the Board's regular meeting was called to order by the gavel of Board President John Fierro. The first resolution on the day's docket was "Resolution #29020 - Reguest Board approval of the Roanoke Park Master Plan." Our liason with the Parks Department, Heather Runkel, introduced the plan and recommended it's approval. Roanoke resident Pete Browne gave a brief overview of the process leading up to the plan and its key elements including increased safety, utilization of the park, cutting back shrub honeysuckle and better connections to surrounding neighborhoods. After fielding a couple of questions from the board and receiving congratulations on the thousands of hours of volunteer labor invested in the Park, the resolution was put to a vote. With all board members in favor, the Roanoke Park Master Plan was officially approved.
The full document is viewable and downloadable on Scribd: http://www.scribd.com/doc/54081928/Roanoke-Park-Master-Plan
The submitted document also included this foldout, so the Master Plan Drawing could be made bigger, and the Design Principles could be better keyed to the drawing on page two of the foldout: http://www.scribd.com/doc/54080750/RP-Master-Plan-Foldout
Its approval was assisted by the positive recommendations from Parks Department staff including: http://www.scribd.com/doc/54090404/KCMO-Parks-Department-Internal-Report-on-Roanoke-Park-Master-Plan
Your name may appear among the many people thanked as Major Supporters of the Roanoke Park effort. Our apologies if we missed anyone or misspelled your name.