Created: 01 November 2011
Updated: 01 April 2014
Published: 01 November 2011
Written by Native
Hits: 5159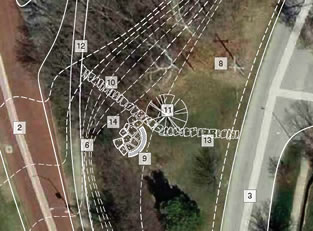 Roanoke Lookout
More good news for the Roanoke Park Project!
Fund established with initial $10,000 donations.
Around the time we were enjoying the Roanoke Park Picnic on October 23, word came of a significant private donation and matching contributions to establish a fund for a specific capital project benefitting Roanoke Park. The project is on a part of the park next to the Roanoke Neighborhood: the land adjacent Valentine Road, to the south of the Westport-Roanoke Community Center.
There are several people to thank for this. First the Roanoke Homes Association – especially Board Member Josh Sitzer whose guidance developed the idea for the RHA to take a lead position among the nearby neighborhoods. The RHA's generous $5,000 contribution to the park is the first really major cash commitment from an entire neighborhood, adding to the now over 2,000 man hours contributed from among all of the neighborhoods. And thanks to Matthew Hufft who provided a rendering of Pete Browne's fine idea for an improvement that would be especially appealing to Roanoke's residents. See below for a pdf of Hufft Projects concept for the installation of a landing at the top of stairs that will eventually provide another access into the park from the Roanoke neighborhood. And, Pete Browne was also the ringleader for obtaining the $5,000 matching donation, getting commitments from a few of his long time clients/friends that have been supportive of his civic work. They committed cash and Pete has committed his firm to help stretch the construction budget.
Click Read More for more information and a link to the design proposal.
These generous initial donations to establish the fund for the "Roanoke Lookout" will certainly get the landing area installed as "phase one" of the project. The stairs will come later and take some "big bucks" from City, Park and PIAC sources which are expected in due time.
Also, we are advised that additional private donations of every size are coming to grow this initial fund. As this happens we can add new plantings to enhance the planned improvements and other restorative amenities to honor Kessler's plan for a largely natural green space. "Natural" but cared for is our goal as stakeholders and neighbors of Roanoke Park. Implementation has already begun. Perhaps you saw the surveyors plotting the site this week. You can help the gathering momentum. Contributions of any size to "Roanoke Park Restoration Project" gratefully accepted or contact Curt Watkins, (email This email address is being protected from spambots. You need JavaScript enabled to view it.) to discuss tax advantaged major gifts to honor the park or individuals.
The proposal submitted by Hufft Projects envisions a stairway being built into the bluff to enhance connectivity between the park and the Roanoke neighborhood, and to provide a stylishly designed park bench as a park amenity. Better accessibility to the park is one of the key goals of the Master Plan.
The design will be submitted to the city Parks Department for approval. In order to find out about the progress of this proposal and other developments as they happen, sign up for the Roanoke Park News & Events email list. It's free and you can unsubscribe at any time. Subscribe to the list via the link in this paragraph or the green box in the right column on this page and many pages of this website.
See the detailed "Roanoke Lookout" proposal here: Roanoke Lookout by Hufft Projects.pdf(3.6 mb)